There are several reasons why you might choose to get your teeth whitened. Every person is different, and just as our hair and skin colour vary, so do our teeth. Very few people have brilliant-white teeth, but many crave this super-sparkling look. Our teeth can also become more discoloured as we get older. They can also be stained on the surface by food and drinks such as tea, coffee, red wine or cola. Smoking can also stain teeth.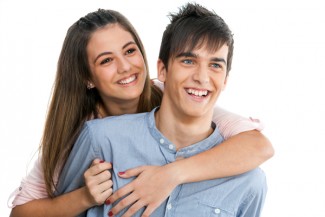 Tartar can also affect the colour of your teeth. Some people may have staining under the surface, which can be caused by certain antibiotics or by tiny cracks in the teeth which take up stains. All of these reasons and many more are why more and more people are choosing teeth whitening in Bournemouth.
The process
Professional bleaching at Queens Park Dental Team is our usual method of teeth whitening in Bournemouth. Our dental team will be able to tell you if you are suitable for the treatment, and will supervise throughout. Firstly, our teeth whitening professional,Hannah Neve, will put a rubber shield or a gel on your gums to protect them. Hannah will then apply the whitening product to your teeth, using a specially made tray which fits perfectly into your mouth.
For your teeth whitening in Bournemouth, our active ingredient in the product is hydrogen peroxide. As this is broken down, oxygen gets into the enamel on the teeth and the tooth colour become slighter. The process is completely pain free and very simple to achieve the results you require.
White Dental Beauty home whitening treatment
For your teeth whitening in Bournemouth we use White Dental Beauty system for our home-based teeth whitening treatment. After a consultation with Hannah Neve, we will take impressions of your teeth. From this custom-made trays can be made to exactly fit your mouth.
Hannah will then provide you with White Dental Beauty's teeth whitening gel. This gel will help keep the teeth hydrated while having a pleasing minty flavour that will leave your mouth feeling really fresh after your treatment.