Are you happy with the whiteness of your teeth? Over time, the ageing process, smoking, or certain foods and drinks can cause teeth to become discoloured and aesthetically unpleasing to the eye.
Fortunately, it is possible to lighten the colour of your teeth for a healthier, brighter smile. Teeth whitening used to be a luxury procedure carried out only by the rich and famous, but in recent years it has blossomed into a much more available and affordable service.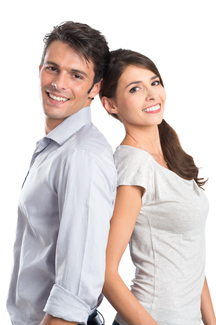 Due to the risks involved by treatments from non-professionals, it is now illegal for anybody other than a dental professional to carry out teeth whitening procedures in the UK. It is best to ignore the adverts in beauty salons and set out to find the best dental professional to suit you.
Who do I choose?
If you are looking for professional teeth whitening in Bournemouth, look no further than Queens Park Dental Team, as we offer a truly exemplary service. We are a trusted and reliable dental practice who understand how to get the most brilliant colour possible out of your natural pearly-whites.
At Queens Park Dental Team in Bournemouth, teeth whitening can be offered either in practice, or we can create a customised tray for you to use for more gradual effects at home.
Is it safe?
The British Dental Health Foundation states that if carried out by a trained and regulated dental professional, there is very little risk associated with teeth whitening, if any at all. Some of our patients may suffer light sensitivity and discomfort around the gums for a short period of time, but this will disappear after a few days.
Aftercare is important. In the days after your treatment, you will need to ensure your newly whitened teeth stay white. This involves cutting down on the activities that create discolouration in the first place and following the aftercare instructions we will give you during your treatment.
If you would like to find out more about having teeth whitening in Bournemouth, contact our friendly reception team, who will happily book an initial consultation for you to discuss your needs, and address any worries you may have.